Do you live in or know Oving, Bucks? We still have three unidentified images in our Kitchener collection of historic local photographs. Help us identify them!
First up, this one which is a view of a road with bushes on the left, three houses on the right and trees in the background.
Second one, where's this? A road with a house distant left, a thatched house is in the centre, a house between some trees on the right and a horse and cart to the right of centre.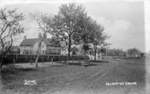 The final one is the recreation ground – is this the same as the modern recreation ground?