Highlights – Horse and cart
The horse was still a common sight in rural England at the time of Kitchener's photographs – in 1934, for example, there were less than one-and-a-half million private cars on Britain's roads compared with 32 million cars today.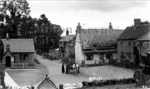 The Square, Akeley, including a horse and carriage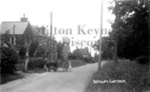 St Mary's Road, Botolph Claydon. A girl stands next to a horse and cart outside an ivy-covered house.
"The Halt" level crossing on the then Oxford to Cambridge railway at Bow Brickhill. The crossing gates are closed and a horse with rider waits at the right.
Market Square, Buckingham, with a horse and cart approaching and several motor cars parked
A woman rides a horse down North Street, Castlethorpe
Main Road, Drayton Parslow. Halfway down the road on the left-hand side is a public house, "The Horse & Jockey", with a cart parked outside.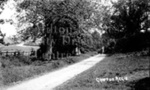 Bozenham Mill Lane, Grafton Regis. A horse and cart are moving away down the lane.
Country lane, Great Brickhill, with a figure on a horse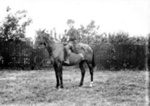 Horseman in period costume, Olney
Horseman in period costume, Olney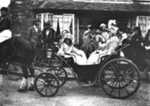 "The Castle" public house, Olney. A woman and two girls are sitting in a small horse-drawn carriage outside.
A small horse-drawn carriage in Olney. Two elderly women and three girls, all wearing period costume, sit inside.
A road in Oving with three houses and a horse and cart
A horse and cart are outside The Cock Inn public house, Potterspury
A man is guiding a horse and cart down the High Street, Potterspury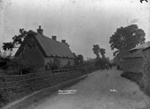 Blackwell End, Potterspury, with a cart in the distance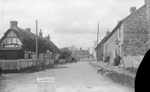 A horse and cart in the distance on The Strand, Quainton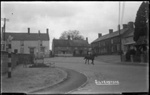 A horse is in the middle of the picture at the Memorial, Silverstone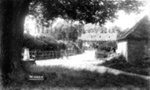 Farmhouse and outbuildings of Home Farm off Leckhamstead Road, Wicken. A milk churn on the back of a cart can be seen obscured by a tree.
Tring Road, Wilstone. The "Half Moon" public house is on the left, with a horse and cart outside.